Like every other able-bodied, home decor-obsessed blogger on the planet, today I'm joining my friend the Nester and her Christmas Tour of Homes.
I'm going to be upfront about this. I am not someone who thinks that Christmas needs to explode in my house. I have some parts that are really decorated, but most are just simple touches. I don't think you need to completely cover every square inch of your home in red and green in order to be "ready" for the season.
Plus, I'm lazy, so I can just use my Christmas mantra as a good excuse.
Anyway, let's start with the outside, shall we?
Oooooh….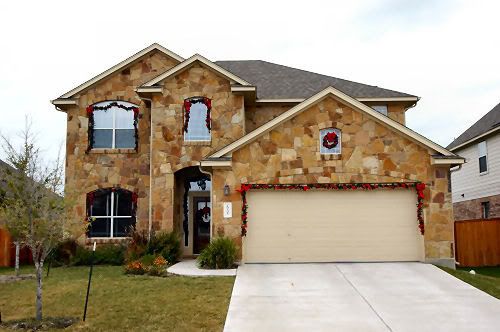 Ahhhh….
Looking back through the front door once you are inside the house.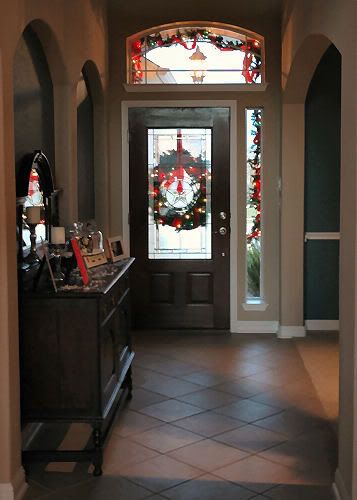 Once you walk into the front door, you see my dining room on the left. I kept my burlap table runner on the table from the Spring Fall and just added some fake snow. In the center, I placed a cupcake stand and added some vintage ball ornaments. I don't think I can take the credit for that, as I'm sure I've seen it somewhere, but I think it is super smartypants.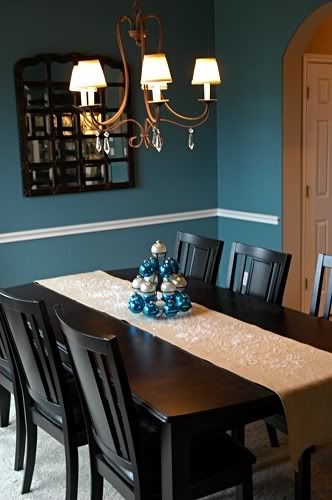 I added some lime green and turquoise decorations to my china cabinet. It's incredibly hard (for me, at least) to photograph something inside of a glass cabinet, so this is as good as I could get. The sequined trees that I showed you how to make over at
Centsational Girl
are in here, too.
On the right side of my entry way, we have my early Christmas present from Mom and Dad – a late 19th century English sideboard. I wish I could marry this piece of furniture. On it, I have all of my son's pictures with Santa and a winter scene inside a covered cake stand (totally stole that idea from
Rhoda
). One of Zack's preschool crafts hangs above.
Further inside my home, you find our Christmas tree.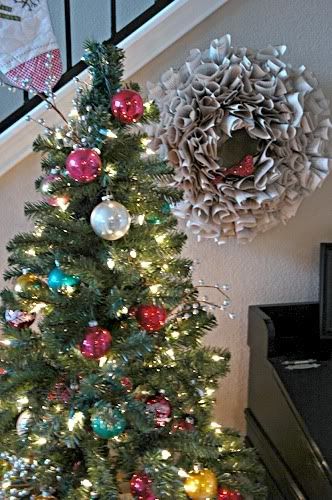 Wait, here's a more realistic picture of it.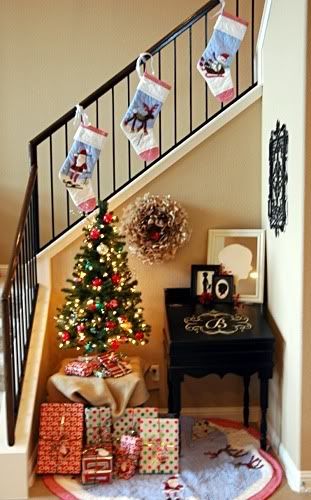 Yep, it's just a tiny fake tree. Sigh… I don't do fake. I bought this one as a secondary tree because it looked nice and was a good price. Once I put the rest of my collection of vintage ornaments on it and placed it on a burlap covered table, we decided that we liked it just fine. We thought about going to get a real tree today, but again, we're lazy and it didn't happen. At least I found something to
fill that space
, right?
In my living room, I hung a simple wreath on one of my windows.
And filled a patina-ed urn with some moss and vintage ornaments. Easy peasy, and it looks great. Just imagine there is a picture here. My card reader decided to quit working right this very second. Looks like there's a trip to Fry's in store for me tomorrow. I'll update the pic when I can!
Then, you've seen my breakfast room. The 'B's' are for 'breakfast.' I kid. Or, do I?
Wel, folks…this is pretty much all of it! I'm tired of decorating for Christmas (and thinking about decorating for Christmas), so I have declared it DONE.
What do you think? Do I need more, more, more? Or, do I need less, less, less?