In the Royal Family of vignette design, I'd consider myself a Duchess. I'm definitely not one of the head honchos, but I know my way around a tablescape. I still have a lot to learn (and a lot of people need to die) before I reach the top.
Luckily for you, I get to introduce you to whom I have deemed the Queen of Vignettes.
The owner of my favorite booth at our local antique mall, Susan Pridgeon, is the master at putting together a random grouping of items and making them look like an easy vignette. I always make a beeline to Susan's booth as soon as I walk in the doors, and I was surprised one day when I actually ran into her while she was reworking a few items in our booth.
I immediately began gushing over her (since I turn into a blabbering idiot when I'm around someone like her), and she laughed and said, "Well, you see how I do it?" She was standing in a pile of pages that she had torn from various magazines. "I find an idea I like in a magazine and just run with it."
Susan graciously allowed me to come back a few weeks later and take photographs of her booth to share with you. I think you will enjoy seeing how she puts her items together into displays.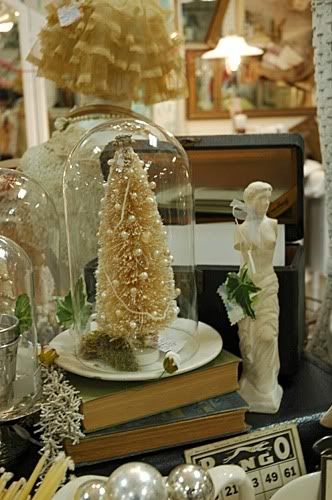 A pearl-embellished bottle brush Christmas tree underneath a glass cloche.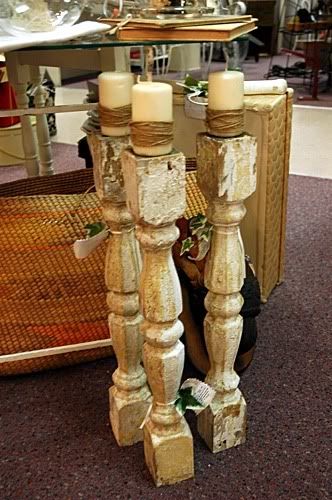 Old balusters turned into candle pillars.
Beautiful vintage Christmas ornaments hanging on what I think is the skeleton of an old lamp shade.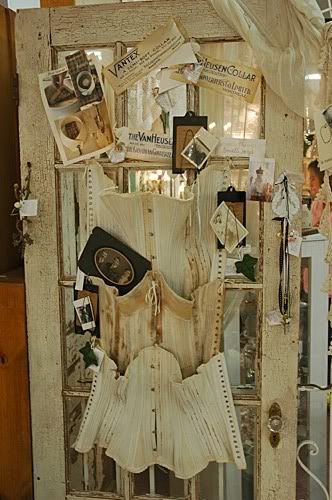 Corsets hung on an old door.
Letters made from vintage pearl buttons. I happily treated myself to one of these back on my birthday.
Chandelier hung under a picture framed wrapped in a line of old raffle tickets.
An old patio chair holding vintage photographs and other goodies.
Dance costume hung among empty frames and vintage letters.
Isn't it all just lovely? I'm sure it's easy to see why I love her booth as much as I do.
Susan doesn't want to keep all of her secrets to herself. She has a basket of magazine pages to share with her shoppers.
If you live in the Central Texas area or plan on visiting soon, I highly recommend you stop by the
Round Rock Antique Mall
and head to Susan's booth,
A Time for Roses
. You will certainly not be disappointed. You'll probably even run into me there, as I go to stalk her gorgeous booth once every few weeks.
Thank you, Susan, for allowing me to feature your wonderful booth! You really are the Queen of Vignettes.