Recently, I discovered that I have a new affliction that is affecting the hearts and minds of creative people all over the world. I was starting to feel a little off-kilter and out of whack, but I was luckily able to self-diagnose myself with the dreaded disease. No, I'm not a doctor, but I do play on one the Internet.
My friends, I come to you with the revelation that I have Decorating Attention Deficit Disorder, better known as DADD. I am absolutely, positively, unable to focus on one decorating project before my mind moves to another. Each room of my house (including the landing on our staircase) is riddled with at least one half-completed project. I am so distracted by each new, shiny idea that I am unable to complete what's already been started.
Case in point: The pile of reclaimed, slightly rotted wood I drug home from the salvage yard. It's on the floor my garage and it makes getting in and out of my car more like a gymnastics routine than anything else.
I have big plans – BIG PLANS – for the wood (which you are going to love, by the way), but I can't focus on that because of this chair: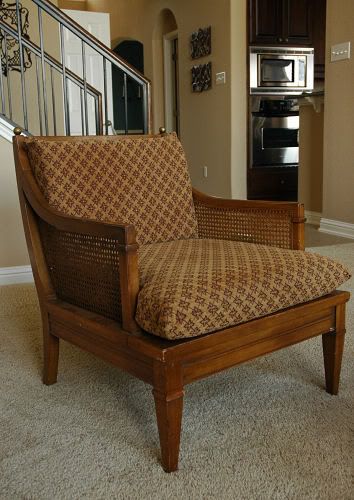 Ugly, huh? Well, not when I'm done with it! It's already been halfway transformed into the most delightful chair ever. All I need to do is sit down in front of the sewing machine to finish the cushions, but then I see this reclaimed shutter on the floor of my sewing room and feel the need to complete that project:
You see where this is going, right? I'm here to tell you that DADD is nothing but trouble. The list goes on, and on, and on.
Are you concerned that you or someone you love may be experiencing DADD? Warning signs include:
Persistent urge to visit thrift stores and salvage yards for no reason in particular
Difficulty performing familiar tasks, such as cleaning your home or going to the grocery store
Disorientation in new places, as you are overwhelmed by the possibility of discovering new decorating ideas
Misplacing items, because you have so many projects going on at once and not enough space to store everything
Overexertion and muscle soreness from lifting heavy objects and moving furniture
Dizziness and 'Heirloom White' toenails from excessive spray painting
Unfortunately, there is no cure for DADD at this time. The disease can best be managed by making lists of projects and completing one (1) project at a time. The list is best displayed next to distracting items, such as cans of spray paint or the Garage Sale section of your local newspaper. I believe I can overcome my affliction with time, dedication, and probably a little encouragement from you.
Have you been feeling a little DADDy lately? How are you coping? Are your family and friends supportive or are you feeling alone in your battle? Let's share our struggles together.