Procrastinator. P-R-O-C-R-A-S-T-I-N-A-T-O-R. I can barely spell it, but I am one indeed. In fact, I'm procrastinating writing my procrastinator post by seeing how many times I can type a variation on the word procrastinate in one paragraph. The answer is five.
Then, Melissa issued a call to paint brushes, a procrastinator party of sorts where we share the projects we've been ignoring and then come back two weeks later and share our shiny, happy completed projects. I broke into a cold sweat and tried to ignore her. Although I do plenty of projects every week (every day, even!), I have a list a mile long and couldn't even narrow it down to what I'd like to work on next. Wouldn't I rather just make another wreath and call it a day?
But then, I realized that I need to make some changes that will do more for my home (and enjoyment level) than another stupid wreath (and also, Melissa kept talking about it and I got sucked in).
Which project should I choose? How about this area of my bedroom that currently houses Mr. Ugly-But-Comfy-La-Z-Boy Recliner, a dog bed, and the top of a decorator table that's legs were eaten by said dog:
Or, I could recover the cushion on this chair to match my new
window treatments
in my craft room: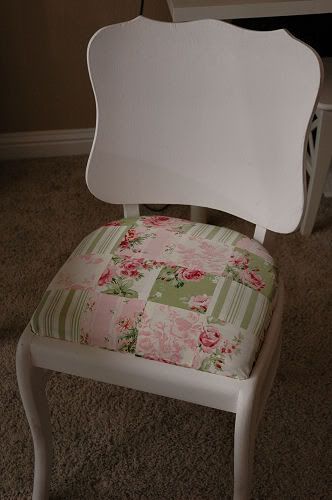 I could address my "Secret Shame", my bookcases/dresser/TV/shelf combination that is my current collector of random, well, crap:
Note

: I am a GENIUS who pushed our 2 old bookcases up to our old dresser and put a shelf on top to create a faux entertainment center in our bedroom. Much work needs to be done (painting anyone?), but I am very smug about how GENIUS this is going to be.
At the end of the day, the lofted playroom won my attention.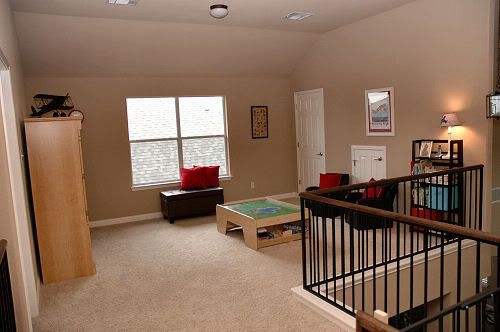 My son is so stinkin' lucky to have such a great playroom! The thing is, he hardly ever uses it. My craft room is right off of the playroom, but I hardly ever use it. Why?
1. There is a total lack of adult seating in the playroom and Zack refuses to be more than 5 feet from me at all times. There was a couch in there, but in an only-in-Lindsay-land moment, my cat peed on it, I washed the cushions and left them on the back patio to dry, and my dog ate them while I was running errands. I found him in a pile of white, fluffy down in my backyard. I was so furious that I'll I could do was laugh.
So, now we only have those adorable kid-sized club chairs, which Zack never even uses.
2. The lack of a window treatment makes it really warm in that room in the middle of the day.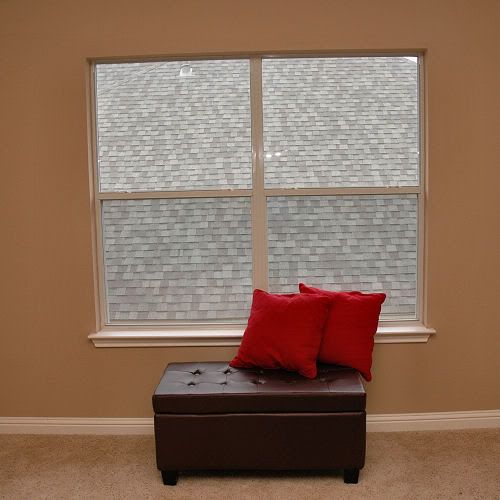 And also?
The view.
Not long ago, that window looked over acres of former farm land. Now, we have this lovely sight: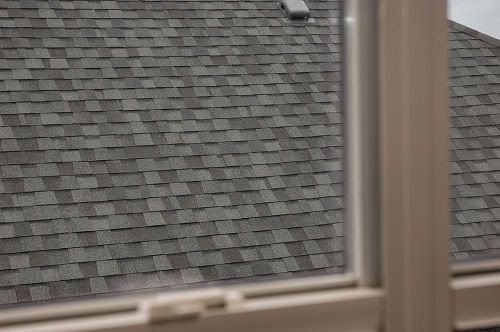 At least I can let the new neighbors know if they have any hail damage on their roof, right?
3. There is a TV/DVR/cable box in the armoire, but I haven't figured out how to hook up all three devices at once. So, we either watch Bolt or Cars or Wall-E or nothing at all.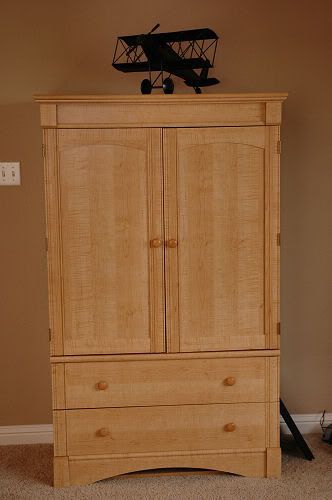 There is so much (SO MUCH!) I need to do in this room, but I have decided that I will (try to) tackle three projects:
Project #1 – Window Treatments. I'm thinking I'll do sheers in the center and a solid color panel on either side. I'll find some fabric that I love to make a valence and then do a coordinating fabric on the bottom of the solid color panels. And of course, I'll add some trim.
Project #2 – Armoire. DH I will figure out how to hook up my entertainment trifecta. I would also like to paint the armoire another color entirely, but I'm not sure if that is going to happen in the next two weeks. At the very least, I'm going to cover the panel inserts on the door with the same coordinating fabric I'll be using on the window treatments.
Project #3 – Adult Seating. I DH will move Mr. Ugly-But-Comfy-La-Z-Boy Recliner upstairs. It kind of kills two birds with one stone – I get him out of my bedroom and have a place to sit in the playroom. Maybe I could come up with some way to dress him up? Suggestions?
What are your thoughts? Do you see something I should pay more attention to other than these three projects? And do you think I can do it all, or in true procrastinator style, will I put it all off until the last minute?