This weekend, we learned that you could discover some really interesting things at a pumpkin farm.
First, goats are happy to eat leaves off the ground if your Mama can't figure out where to buy the actual goat food.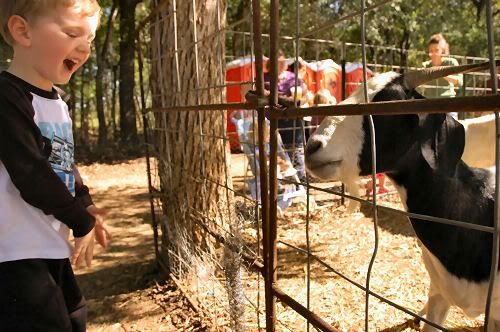 Second, sand comes in a rainbow of colors and, when poured into a plastic pumpkin, makes for a necklace even boys will wear.
Third, corn mazes with Daddy are really fun to explore.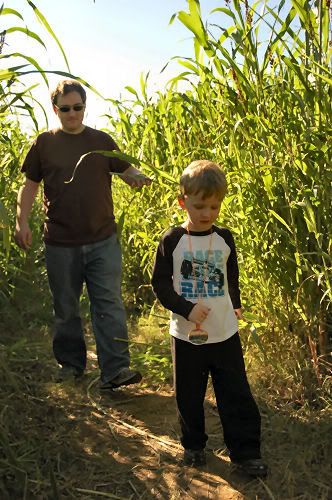 Fourth, Mama gets distracted really easily…
Okay, so yeah. If you knew a bin of these existed, wouldn't you stare at them to make sure someone didn't grab the one you wanted?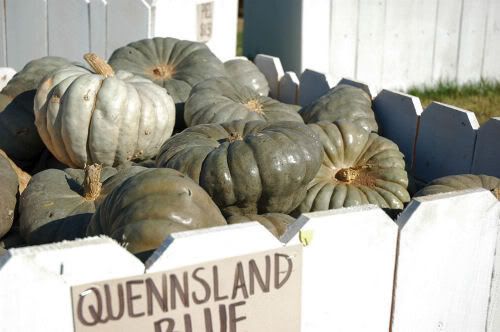 BLUE PUMPKINS! I had no idea such a thing even existed. They are the most wonderful shade of greenish-blue that I have ever seen. Well, that I've ever seen in a pumpkin.
My entire house is decorated in shades of blue, so I knew one of these had to come home with me. It's now replaced the little urn of Alabama acorns that once sat atop the books under my coffee table.
Ain't she a beaut? After doing some research once I got home, I have learned that this pumpkin, as well as some of the other non-Jack 'O Lantern pumpkins, can actually last well over a year (some claim up to 4 years, but I highly doubt that) with some care.
How to preserve pumpkins:
When you buy a pumpkin, look for one that has a uniform flesh color and doesn't have many scratches or blemishes.
Once you get it home, thoroughly wash and dry the pumpkin. It's suggested to use a bleach and water solution (1 part bleach for every 10 parts water) to kill any bacteria that may be on the surface.
You may display your pumpkin outdoors until the first freeze. When it freezes, bring it indoors to keep it warm. You should put it on a piece of wood or cardboard in case you forget about it it does start to rot.
When the temperatures are hot outside, keep your pumpkin cool in a basement or air-conditioned room.
If you are carving a pumpkin, spray all of the carved portions with a bleach and water solution so that it will last longer (up to a few weeks, it seems).
Pretty interesting, huh? I think I will try to keep this gorgeous blue pumpkin around until next year, just to see if I can. It's so beautiful – maybe I can even figure out a way to decorate with it year-round. Wanna dare me?
Have you ever tried to preserve a pumpkin? How did it work out?